Hila Janson | PADI IDC Komodo | Gili Islands, Indonesia

Meet Hila who took the PADI IDC Gili Islands in 2015 with Platinum PADI Course Director Holly Macleod. Hila is from the island of Flores and has been working in Labuan Bajo for a number of years as a professional dive guide.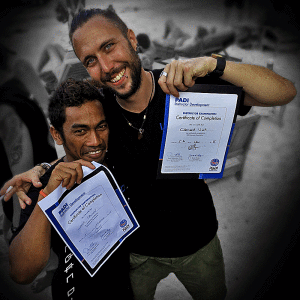 Hila is was already very proud within his work as a professional Divemaster, having run a number of trips in Komodo National Park for various divers of varying experience, he has always been able to make his customers have an unforgettable experience of a lifetime.
Whether an Instructor, a Divemaster, a photographer, a marine biologist, a highly experienced fun dive or simply a diver with some experience, Hila vows to make your trip a trip of a life time, show you a huge array of weird, exotic and rare marine life whilst make the dive as safe as possible.
Hila's job doesn't just stop after the dive as there are many more responsibilities in running trips within the National Park. Once up from the dive Hila will take on the position of Cruise Director which involves pretty much every other aspect of making his guests comfortable and happy. As a Cruise Director he oversees everything on the boat from maintenance, food preparation, entertainment and general customer service.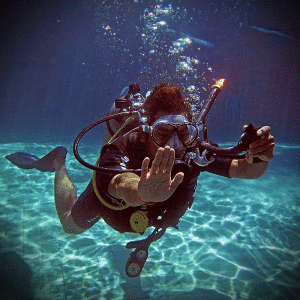 During his time working on the boat in Komodo National Park, Hila has always been keen on furthering his education and developing his career within the recreational diving industry and therefore decided that becoming a PADI Scuba Diving Instructor would only complement his vast achievements thus far. Initially when we first met Hila he was hesitant about the language problems that are always presented to Indonesian Instructor Candidates as the PADI Instructor Development Course (IDC) was conducted entirely in English, his teaching presentations would need to be conducted in English and both theory and the general standards written exam would need to be taken in English. Another major drawback is that PADI Materials are not yet available for Instructor level training in Indonesian.
Hila's hesitation was far outweighed by an extremely high level of knowledge about diving, marine life and the dive industry. His vast experience and desire to take the next step meant that there was no doubt that we were looking at somebody who not only wanted to become a PADI Instructor but would benefit himself, his employers, the diving industry and the area in which works
As an Award Winning Platinum PADI Course Director and having trained many local Indonesian dive professionals, Holly Macleod saw it as a pleasure and an honor to help this young man to take the next step and with the help of Trawangan Dive; PADI 5 Star IDC Career Development Center (IDC) in Gili Trawangan was able to give Hila the perfect start to his new and rewarding career as a scuba diving instructor.
So all there is left to say is congratulations and we wish Hila a prosperous future within the industry that he once fell in love with. Also of course if anyone is looking at diving in Komodo National Park Hila is undoubtedly the best person to speak to with an in-depth knowledge of the area and the dive sites coupled with a thorough understanding of PADI, its philosophy and its training procedures.
The PADI IDC Indonesia has been praised over the years by both PADI and the Dive Industry and has therefore won multiple awards for professionalism and the very programs it produces. To find out more about becoming a Scuba Diving Instructor check out the PADI IDC Gili Islands Fan Page and see all the latest news and information on the program. To reserve your place simply directly contact our Award Winning Platinum PADI Course Director Holly Macleod
Check out the the Class of 2015