Class of March + April 2016 | Multi Award Winning Platinum PADI IDC Course Director in the Gili Islands, Indonesia

A massive congratulations to Adam, Herbie, Rebecca, Eko, Michael, Mattias, Amanda, CK and Savannah who recently finished the PADI IDC with Multi Award Winning Platinum PADI Course Director Holly Macleod in the Gili Islands, Indonesia and successfully went on to score top marks in their Instructor Examination hosted in Gili Trawangan.
Already being experienced Divemasters, they will all make great PADI Scuba Diving Instructors "teaching the world to dive" and sharing their passion of the underwater environment with others. By choosing the PADI IDC program with Holly they have not only participated in the required mandatory PADI IDC core syllabus components, they have also received a range of additional training and unique workshops which have been pioneered and developed by Multi Award Winning Platinum PADI Course Director Holly Macleod. These additional course components are very specific to this particular program and can only be accredited to the pure experience of Holly, who has worked within the industry for well over a decade in a range of different dive related jobs and in a variety of global dive locations including Central America, Australia, Thailand, Malaysia, the Philippines and of course Indonesia.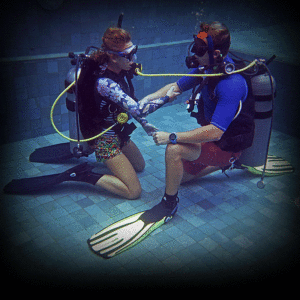 By participating in this highly structured, professional and fun program these guys will possess the knowledge, skills and confidence to go out into the industry and succeed in this rewarding and dynamic career passing on their knowledge and passion to others in a fun and educational way ultimately "teaching the world to dive".
Another great aspect of this particular program is the ability to network with both those on the course and others around the Islands of Gili Trawangan. Being a friendly community of divers the island is reasonably small and therefore it is easy to make friends especially when participating in the many social events that take place such as beach clean ups, underwater cleanups, social gatherings and other activities that regularly take place on the island.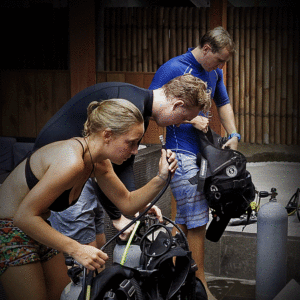 The program is effectively split into two parts; the pre IDC preparation workshops and the PADI Instructor Development Course (IDC). The pre-IDC portion of the program runs over a 5 day period and is basically designed to review and master the skills and knowledge from the Divemaster Course and ultimately prepare them for the PADI Instructor Development Course (IDC) allowing them to get the best out of the instructor course and concentrate on the instructor development element of the program rather than that which should already have been covered within their Divemaster training. The pre IDC is conducted on a slightly more casual and flexible schedule and therefore a great way for candidates to get to know each other and make a smooth transition into the more scheduled PADI Instructor Development Course (IDC).
A great way to find out more about the program is to check out the PADI IDC Gili Islands on Facebook which is and up to date reference for all of the latest news and updates on the course and a series of real time photos documenting each course as it runs. To see the class of 2015 we have created the PADI IDC Indonesia Show reel showing the 2015 graduates in action.
For further information check out the PADI IDC Gili Brochure or contact Multi Award Winning Platinum PADI Course Director Holly directly on idc@trawangandive.com