Learn to Dive with Sulman in Gili Meno | PADI IDC Gili Islands | Platinum PADI Course Director Holly Macleod.

If you are travelling to the Gili Islands and looking to go diving than you won't find a better place than Gili Meno and the first person to see is Sulman at Blue Marlin Dive Gili Meno.
Sulman from Gili Meno, recently became the first ever PADI Instructor from the Island and he chose the PADI IDC Gili Islands to do it. As well as running a beachside café and resort with his family, Sulman holds down a full time job as At Blue Marlin Dive. He has previously worked as a Divemaster and boat captain and is now a PADI Instructor with the company.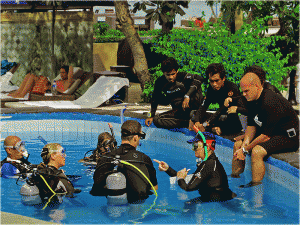 Why Sulman took the PADI IDC Indonesia Program?
As Sulman was growing up on Gili Meno he has seen the tourism in the Gili Islands growing rapidly and decided he wanted to be a part of it. Firstly his family set up their resort and beachside café which draws in travelers from all over the world and is the perfect place to see the sunset. Working for the dive shop gave him that initial fascination with diving and further more gave him the desire to pursue a career within the industry.
The PADI Instructor Development Course and Instructor Exam can be extremely difficult for Indonesian citizens as material is not available in their native language and therefore the entire program is conducted in English. This means that all classroom and in water presentations will need to be prepared and delivered in English and all written exams will be in English. Of course taking the IDC is a large investment for anyone and as wages generally tend to be lower in Indonesia it is often the case that employers need to sponsor the candidate. Also there are many new forms of terminology introduced into the Instructor programs which can be hard for anyone, net alone those who have most likely only briefly touched on it during the PADI Divemaster Course. However most Indonesian candidates seem to have the highest possible standard when it comes to the water work, scoring full marks for both skills and demonstrations right from the start, and Sulman was no exception.
His success at the IDC Gili Islands!
Despite all of these obstacles Sulman still wanted to become a PADI Scuba Diving Instructor so as he can firstly share his passion of the underwater environment and his experience with new divers, but also of course to earn more money and progress his PADI education.
During the course Sulman often had other work related issues to deal with, weather it was his commitments to the dive shop or to his family business on Gili Meno there was always something going on. After putting a lot of study in the program and despite being let down by his translator at the last hour he decided to go for the exam and of course passed with flying colors
We are very proud of Sulmans success at the PADI IDC Gili Islands and wish him all the success in his future career.
If you're looking to become a PADI Instructor and want to get the best possible training check out the IDC Gili Islands Program, or to see how candidates are getting on check out the PADI IDC Gili Islands Fan Page.