Ovan "the Man" | Becoming a scuba Diving Instructor in Gili Trawangan | PADI IDC Gili Islands with Platinum PADI Course Director Holly Macleod

If you're looking to visit the Gili Islands and want to learn to dive one of the best person to speak to would be "Ovan the Man" at Gili Divers in Gili Trawangan. Ovan has recently taken the PADI IDC Gili Islands Program with Platinum PADI Course Director Holly Macleod and is now a Scuba Diving Instructor.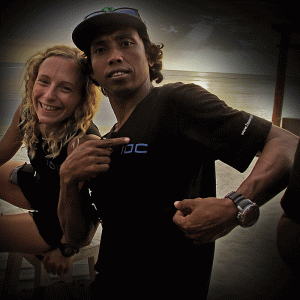 Why take the PADI IDC Gili Islands Program?
Ovan is from Sumbawa and came to the Gili Islands to work within the diving industry. After working with various dive shops he eventually ended up at Gili Divers, a job which he loves. Before taking the IDC course Ovan's was the in-house equipment technician, dealt with the compressor maintenance and was one of the main dive guides. Now he has returned to Gili Divers as a Scuba Instructor looking forward to introducing new divers to the underwater world surrounding the Gili Islands.
Ovan has wanted to become a dive instructor for as long as he can remember but was aware of how difficult it is for Indonesian candidates due to lack of material and an obvious lack of PADI Course Directors & Examiners that speak Indonesian. Ovan decided that he was definitely ready to move up the PADI Education Ladder and joined the IDC Gili Islands program. The original Intent was to sit through the IDC and then make a decision on how he felt about the IDC, if necessary sitting through a second IDC.
Ovans Success with the PADI IDC Indonesia!
Ovan of course was excellent at the in water skills and all of the classroom, confined and open water presentations. Although the theory and standards are always going to be difficult for anyone taking the program in a language other than their own, Ovan progressed and during the course the scores just climbed rapidly and Ovan felt more than ready to take the Instructor Examination and of course scored some very high scores for everything.
We here at the Gili IDC are very proud of Ovan and his achievements and wish him all the best in his future career as a PADI Instructor.
Since last year the Gili IDC has seen 4 local Indonesia candidates choosing to take the PADI IDC Course and are now all enjoying rewarding and successful careers in teaching recreational scuba diving. Another Indonesian IDC Gili Islands success story is Sulman, who became the first ever local person from Gili Meno to become a PADI Instructor.
If you're looking for a real career in recreational diving than the IDC Gili Trawangan is the perfect choice. To find out more about how our candidates process through the course we can be found of our PADI IDC Gili Trawangan Facebook Page. Of course to see an actual IDC in action check out our PADI IDC Gili Islands Video