PADI IDC Gili Islands | Often imitated but Never duplicated | Student Control and Dive Site Setup | Indonesia

During the PADI IDC Program candidates will be exposed to a range of additional workshops outside of the PADI IDC Curriculum and It's great to see other Programs now choosing to replicative some of the additional workshops pioneered by Platinum PADI Course Director and of course it's great to be seen as the ultimate pioneers of Instructor Development but it's important to remember that it's impossible to duplicate a process that has been tried and tested over years of experience.
In 2015 Platinum PADI Course Director Holly Macleod saw over 100 new PADI Instructors benefitting from additional workshops outside of the PADI IDC Curriculum.
A great example is the PADI IDC Student Control and Dive Site Setup Workshop, which can actually be separated into two separate workshops although there is a degree of crossover between the two.Firstly with Student Control, from the experience of certifying hundreds of Instructors and working as an instructor for over a decade i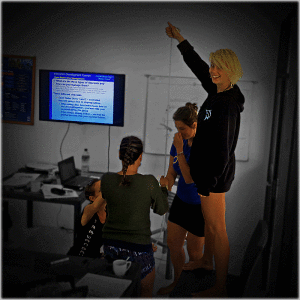 n range of different countries and environments our Platinum PADI Course  has found that the best way to conduct Student Control workshops are actually separated into a series of mini workshops. Andy who became a PADI Instructor in early 2014 can be seen here participating a mini classroom student control workshop about making a safe descent on to the dive site.
Of course there are some more important features of student control and therefore it is required to find more appropriate ways of training students, for example the Controlled Emergency Swimming Assent (CESA) which is a situation where an instructor needs to be in full control. For the CESA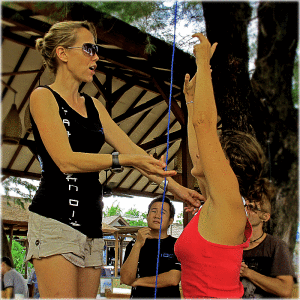 mini workshop our Platinum PADI Course Director finds it a much more appropriate to conduct the workshop outside and from a higher point with a much tighter control line. Tania who took the PADI IDC over a year ago can be seen her participating in a CESA control workshop.
When it comes to Dive Site Setup our Platinum PADI Course Director will use her experience, having worked in a variety of worldwide locations, multiple underwater environments and having certified thousands of entry level students to demonstrate the best possible way to set up the training site. There are many factors to include when choosing how to setup your training session including positioning of students and PADI Assistants and how to organize the entire session to provide the best possible training in a fun, safe and controlled environment. These previous PADI IDC candidates can be seen organizing their training sessions having already planned the most effective way to control their students.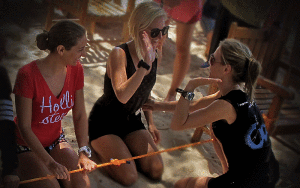 So, it's great to see so many people adopting the workshops used by Platinum PADI Course Director Holly Macleod on their own programs, but it's important to remember that all additional workshops have been tried and tested through years of experience and hundreds of previous PADI Instructor Candidates. And it's important to consider what they are actually trying to achieve on these workshops and the experience of those conducting the workshops.
To see previous candidates in action throughout the program and the experience that is involved check out the PADI IDC Indonesia Instructor Facebook Page. If you're looking to become a PADI Scuba Diving Instructor and get trained to a level far superior than that generally expected within the industry check out the 2016 PADI IDC Indonesia Schedule or contact Holly Macleod, Platinum PADI Course Director.